Description
[YOUNG POONG] YOPOKKI Tteokbokki - Hot & Spicy 120g
 كعك الأرز (تكبوكى) الحار من يونج بونج - 120 جرام
المكونات
كعك الأرز: أرز، ملح، حمض الستريك
الصوص: معجون الفلفل الأحمر (فلفل أحمر، شراب الذرة، ماء، فول الصويا)، شراب الذرة، سكر، بصل، ثوم، زيت ذرة، معجون طماطم
:كيفية التحضير
ضع كعك الأرز والصوص فى الكوب
املأ الكوب ب20 مل من الماء حتى يصل مستوى الماء للخط الأحمر الموجود على الكوب
قلِبه جيدًا وغطيه ثم يوضع لمدة 2-3 دقائق فى الميكروويف
Ingredients
Rice Cakes: Rice, Salt, Citric acid. 
Sauce: Red Pepper Paste (Red Pepper, Corn Syrup, Water, Soybean), Corn Syrup, Sugar, Onion, Garlic, Corn Oil, Tomato Paste
How To Cook: 1.Put rice cake and sauce to a cup. 
2.Fill 20ml of water to the red line outside
3.Stir well and cover it with a lid. 
4.2 minutes (1000 W), 3 minutes (700 W) in Microwave.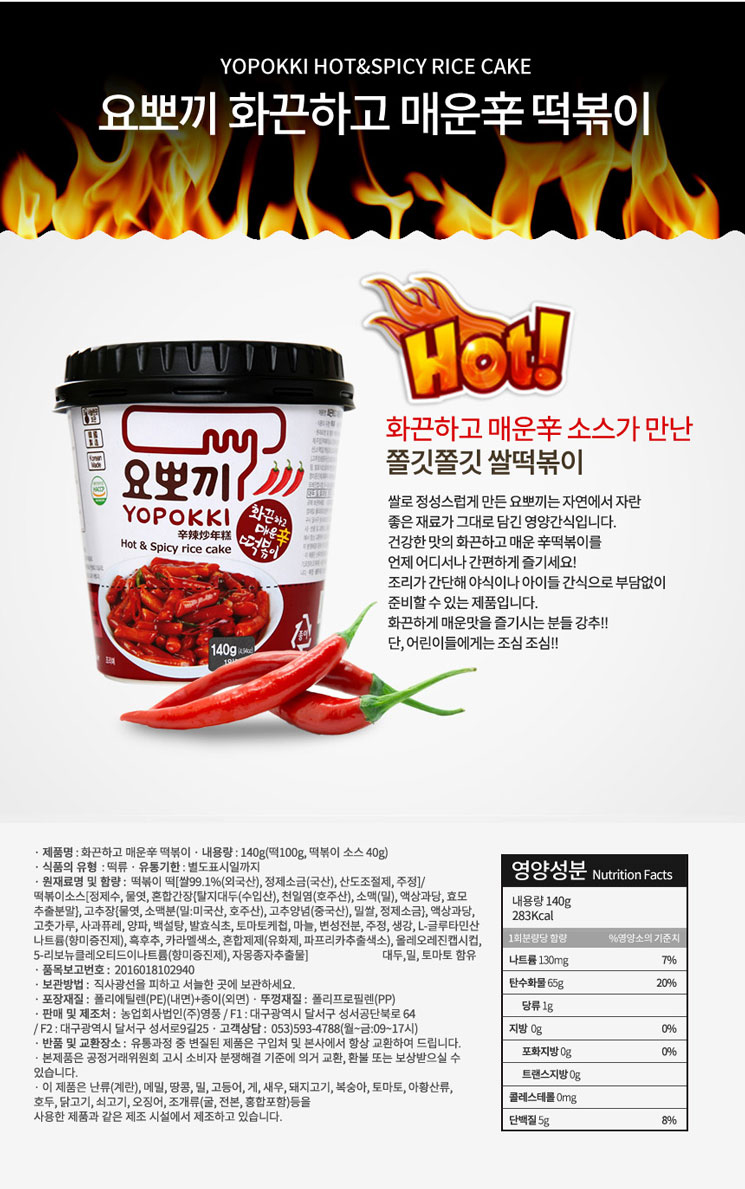 Payment & Security
Your payment information is processed securely. We do not store credit card details nor have access to your credit card information.